Guangzhou, China – 10 May 2018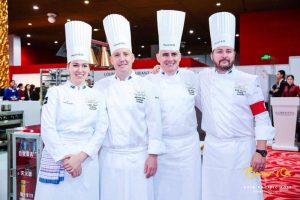 Team Australia put in a strong performance at the Bocuse d'Or Asia Pacific in China over the past two days, placing fourth in the elite culinary competition and qualifying to continue to the Grand Finale event being held in Lyon, France next January.
The team comprised candidate Michael Cole, commis chef Laura Skvor, coach Scott Pickett and President Tom Milligan. Skvor was named Best Commis Chef of the competition overall, a huge honour for any young chef.
Twelve Asia Pacific countries competed in the event held in Guangzhou and those placing in the top five qualify for the world competition in Lyon. Japan's Hideki Takayama won the gold medal, Natcha Saengow from Thailand won silver and South Korea's Seon Yeong Gu took home the bronze. Singapore came fifth and therefore qualified alongside Australia. China was named as a wild card competitor also heading for Lyon.
Known as 'The Olympics of Cooking', The Bocuse d'Or is a gruelling and challenging event. Teams have five and a half hours to prepare two dishes, one of which is presented on a decorative platter and then plated for judges. This year's mandatory ingredient for the first dish was veal tenderloin and salmon for the platter.
Extra points are given for 'typicality', or dishes that reflect the flavours and culture of the competitor. Cole included Australian ingredients such as Vegemite, abalone that he hand-dived off the Mornington Peninsula coast, ash from red gum cut from his own property, Australian black truffles and morels, Warrigal greens, Tasmanian black garlic, ink from Flinders squid and foraged native herbs.
Each dish is assessed by a panel of judges that includes the Presidents of each team. Australian Bocuse d'Or President Tom Milligan says Cole and Skvor worked extremely hard training for the event, and their efforts paid off against very tough competition.
"We came to Guangzhou to qualify for Lyon and we are thrilled to have achieved our goal," says Milligan. "Laura winning Best Commis as well is a huge credit to her, and a well-deserved honour."
However Team Australia will not be able to rest long on its laurels; the Bocuse d'Or World Cuisine Contest in Lyon next January will be an even greater challenge against 23 teams of elite chefs from around the world.
"For now, Bocuse d'Or Academy Australia would like to sincerely thank the sponsors who have helped us so far on this 'road to Lyon'," says Milligan. "We could not have come this far without the support from our gold sponsors Aquanas, Clover Valley Fine Food, Telstra and Imports of France, and sponsors OrderMate, Bone Roasters and Eustralis Foods, plus many other supporting organisations and individuals. We look forward to the journey ahead as we prepare for the main event in France 2019."
[Ends]
Note to Editors:
Held every two years since January 1987, the Bocuse d'Or was created by the late Paul Bocuse to bring together 24 young chefs from all over the world, to compete in a contest like those held by major sporting codes.
Before reaching this final stage of the competition, Chefs must first pass a selection process, in their country and in their region.
Michael Cole, a Head Chef at The Flinders Hotel, Mornington Peninsula, was selected with apprentice chef Laura Skvor to represent Australia in a competition held at Foodservice Australia in Melbourne in May 2017. Tom Milligan and Scott Pickett are both previous Bocuse d'Or Candidates who competed in Lyon in 1995 and 2005 respectively.